ADM featured in the Portsmouth Press Herald
February 07, 2010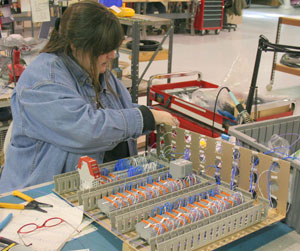 Advanced Design and Manufacturing in Portsmouth will celebrate its 20th anniversary this year and the company has internalized a valuable lesson in surviving and thriving in the brutally competitive contract manufacturing sector — stick to what you do best.
"We've gotten by sticking to what we know and what we're good at," said Matthew Wilber, ADM's sales manager. As the company's 11th employee, who joined ADM in 1997 and has worked in all facets of the company, Wilber has seen what works well in the contract manufacturing industry.
"We pride ourselves in engineering support and customer service," Wilbur said.
ADM specializes in providing contract manufacturing of complete machines, electro-mechanical assemblies, harnesses and cables, Wilber explained. In layman's terms, it builds vital control systems for the machines to manufacture products for the petroleum processing, semiconductor, nanotechnology and fluid/adhesive dispensing.
Wilbur said ADM is also branching out into growing fields of green technology (one current client is manufacturing components for solar panels) and health care fields.
"We obviously want to expand our base and alternative energy seems to be a new and strong growth market," he said.
ADM has 40 employees and a large production facility on Heritage Avenue in Portsmouth, where it moved to in 1999. It was started by the husband and wife team of Ron and Caren Raby, who had been laid off from a Massachusetts-based industrial manufacturer in 1989.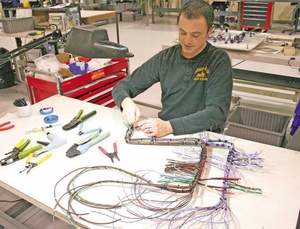 Ron was an electrical engineer and Caren a mechanical engineer, and, because they had so many contacts in the contract manufacturing industry, they decided to start their own business from their York, Maine, home.
ADM was born in 1990 and the Rabys, Wilber said, have made a commitment to staying competitive and staying ahead of the curve and keeping local people employed.
"We've had a lot of people, up to 40 percent, who have worked here for more than 10 years," he said.
ADM has had its ups and downs. During the Internet boom a decade ago, Wilber said the company had two buildings and more than 100 employees.
To justify the growth, ADM dipped into the high-volume production sector which Wilber said strayed from the company's core strengths of engineering innovation, quality control, flexible employee training and customer service.
"Our strength is smaller scale anything from prototype to low-volume production," he said. "We are keeping away from super-high-volume work. We don't even quote that anymore."
Wilber said ADM's longevity has been bolstered by its ability to become less of a provider and more of a partner with its clients.
As an example, ADM was recently honored by semiconductor industry leader NEXX Systems. The award from Billerica, Mass.-based NEXX cited ADM for its work on the Stratus system, an industry-leading machine that provides wafer level packaging and recently had its 100th unit installation in Taiwan.
Wafers are important because they are a starting block for the heart of many popular electronic devices such as smart phones or gaming systems.
By slowly growing its specialty niche in the industry and increasing its technological expertise, Wilber believes ADM is poised for its next generation of smart growth. Despite taking a hit during the recent economic downturn that led to some layoffs, he said the economy in his sector is recovering. Capital finance funding is starting to flow and more companies are focusing on research and development.
"A lot of businesses got by on minimal orders, but at the end of last year we started getting a boost from new and existing orders," Wilber said. Down times often precede a major leap in technology development.
"They (ADM partners) are working on the next greatest thing because when the economy comes back, people are going to want the next greatest thing."